Venues
Resorts, rentals, and even charter boats provide a wide array of venues for hosting your special day among hills, waters, and small towns of Orcas Island.  Choose from classy hotel halls to antique local resorts; the beautiful day of your dreams awaits in the San Juan Islands!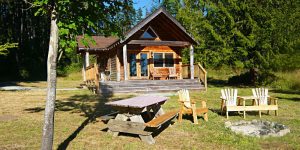 West Beach Resort is located on the sunny and pristine west side of Orcas Island, Washington. We are a private destination resort specializing in providing guests with an authentic San Juan Islands getaway. We have been an Orcas Island lodging and hotel destination since 1938. Stay in our fully-equipped beachfront cabins & cottages on our world class walk-out, west-facing, sand/pebble beach and watch the sunset as you relive the day's adventures from your private beach fire pit.
Call 877-937-8224, Eastsound, Orcas Island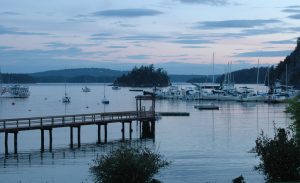 Your personal guide to beautiful Deer Harbor on Orcas Island.

We offer full service catering at any location on Orcas Island! We also host weddings on our property, where your new life together will begin in the middle of a hundred year old apple orchard. The backdrop of the ceremony will be beautiful Deer Harbor with the small wasp island chain and the Olympic mountain range in the background. The ceremony will be under the wedding arbor with seating for your guests facing the harbor. Our staff can also help in arranging ministers, wedding cake, flowers, and photographers. Hair styling, beauty services, facials, and massage can also be arranged.
Call 360-376-4110
Outlook Inn is a respite from the routine of the modern world, a quiet place of beauty, and serenity is found during a true island getaway. Enjoy breathtaking views of the Salish Sea from the heart of Eastsound. Explore our romantic property and discover intimate gathering places, picturesque opportunities, beautiful gardens, and the peace and calm that naturally occurs on Orcas Island. Offering curated wedding packages to meet your needs, you'll find your big day to be effortless at Outlook Inn.
Call 360-376-2200, Eastsound, Orcas Island
Orcas Weddings is your premiere wedding coordination service, with on site chapel. Owner, Vala Ross, has over 10 year experience catering and coordinating weddings and events on Orcas Island. From flowers to food, and venues to accommodations, she knows all of the islands best kept secrets and would love to help you plan your perfect day!
Call 360-941-2537, Orcas Island
Vibrant and active non-denominational church offering Sunday morning worship and weekly activities for all ages.
Call 360-376-6422
Rosario's romantic waterfront location on Orcas Island is the perfect setting to exchange your vows. You will experience one-of-a-kind ceremony and reception venues for events large and small. The magnificent Rosario Point Lawn is perfect for your outdoor wedding ceremony, with an incredible 360 degree view of sparkling Cascade Bay, forested hillsides and distant islands. It is one of the most serene, private and visually stunning outdoor ceremony locations in all of the Pacific Northwest . Any season is a good time to get married at Rosario Resort. An indoor wedding in the turn-of-the-century Moran Mansion will compliment any weather. The historical Music Room, located in the heart of the Moran Mansion, with its pipe organ, stained glass windows, fireplace, rich mahogany and Tiffany chandelier will wrap your ceremony in warmth. The Music Room is also offered as a weather alternative to an outdoor ceremony on the Point Lawn.
Call 360-376-2222, Orcas Island
Hard to imagine a better location for the most cherished moments of your life. Storybook setting. Available year round. Setting for up to 70 guests. Plan your wedding at the Victorian Valley Chapel! Contact us: thevictorianvalleychapel@gmail.com